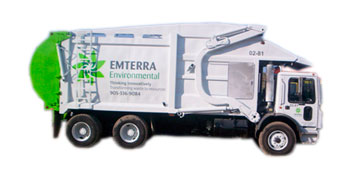 Caseville Township contracts with Emterra Environmental for garbage pickup.

The

garbage company mails the bill out the beginning of April. Per township ordinance, all parcels within the township that have a house on the property, whether occupied or not, are subject to this fee. Payment is required to be returned to the garbage company no later than June 30th. Delinquent garbage bills are added to the winter tax bill, along with an additional $20 penalty Please make your checks payable to "Emterra Environmental USA Corp". All payments must be mailed directly to Emterra - we can not accept payments for garbage at the Township Office. The new bill for the 2019-2020 calendar year will be mailed in April 2019.
NOTICE FOR ALL CASEVILLE TOWNSHIP RESIDENTS:
We have received complaints about the condition and appearance of the wire cages used to protect garbage from the wildlife in the township.

The wire cages at curbside shall not be used for the daily accumulation of garbage. Garbage in approved bags may be placed in wire cages the night before the scheduled pickup day, or on the last day of your occupancy.
Cages at curbside must be constructed of a frame and wire screen design. Cages must be kept clean, free of all materials, and kept in good repair.
No trash of any kind shall be store or accumulated on a vacant lot or in a wooded area.
Garbage pick-up for Caseville Township is Monday morning.
Please have your rubbish at the curbside by 6:30 AM on the service day.
Emterra does *not* collect on Memorial Day, July 4th, Labor Day, Thanksgiving Day, Christmas Day, and New Year's Day. Trash will be collected the day following the holiday. If a holiday falls on the weekend, trash pick-up will remain on Monday.
Caseville Township residents are entitled to one free dump per month at the Bad Axe landfill located on McMillan Road between W. McTaggart and W. Atwater Roads.
For a map, please click here.
The load must be approximately 1.5 yards or less (or an average pick-up load, water level). Proper identification must be presented at the landfill.
Please contact Emterra to schedule the pick-up of large items.
Items Allowed
Approved waste containers or bags, not heavier than 50 pounds. Trash containers cannot contain "loose trash - please bag all contents inside your container.
You are allowed to place ONE large item out per week (i.e. sofa, chair, appliances). Refrigerators, freezers, air conditioners, etc. that contain CFC's can only be picked up if tagged and certified by an air conditioning specialist that the Freon has been removed.
**Please remove any doors from appliances before placing at the curbside for obvious safety reasons.**
Items That Will NOT Be Picked Up:
Tires, car parts, car batteries, construction or demolition materials, furnaces, rocks, bricks, cement, stumps, trees, or loose liquids.
Hazardous Waste: Including poisons, paint solvents, paint liquids (must be dry and hardened with the lid off), fuel, oil, pesticides, herbicides, or dead animals.
Emterra Environmental offers a yard waste pick-up service for an additional fee. For the 2017 season, the charge was $67.00. The yard waste pick-up season runs from April 1st through November 30th. You must please contact Emterra directly to sign up for this service.
Yard waste consists of grass clippings, leaves, brush, and twigs. Sticks must be no longer than 4 feet in length, and 2 inches in diameter, and should be tied in bundles less than 50 pounds in weight.
No yard waste will be accepted in plastic bags. You must use brown kraft paper yard waste bags (available at hardware stores, Wal-mart, etc.) or 30 gallon unlined trash containers clearly marked with an "X" on the side.
Tuesday is the service day for yard waste pick-up.
To contact Emterra, please call toll free
877-609-6753