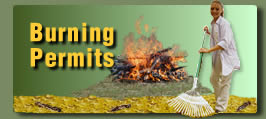 Please call the Caseville Fire Department (989) 856-9198 and follow the prompts:
Be sure to leave your name, the location where you will be burning, your phone number, and date you will be burning.
Leaves and brush are the only things permitted to be burned. Campfires are still permitted. Please be considerate of the wind conditions when burning and NEVER leave a fire unattended. Please consider mulching or composting leaves.
If there is a burning ban in affect when you call for a burning permit, there will be a message stating so.